Conference Program
| | | |
| --- | --- | --- |
| Deecmber 03, 2021 | 10: 00 am - 17: 00 pm | Arrival and Conference Materials Collection |
| December 04, 2021 | 10: 00 am - 17: 00 pm | Conference Speeches+Technical Sessions |
| December 05, 2021 | 10: 00 am - 17: 00 pm | Technical Sessions |
Day 1: The first day is all about registration, participants are supposed to sign in at the conference Conference Venue and collect all the conference materials at the registration counter on this day from 10:00 am to 5:00 pm. However, the registration is still open on the 2nd day of the conference within the same time.
Day 2: The conference chair will be hosting a opening ceremony around 10:00 am in the morning , and all the participants are supposed to be there, then the keynote speakers will deliver their spectacular speeches and share their cutting-edge research fruits with the participants. During the intermission, there will be a photo session for all the participants to take a group photo. Participants' presentations are divided into different sessions based on the conference topics, participants should find the right session room and be there at least 3 minutes earlier to copy his ppt/pdf presentation into the laptop and get ready. Then the session chair will start the session on time, and give a grade to each presentation, which should be within 15 minutes, including Q&A. After each session ends, the best papers will be announced and the certificates will be awarded.
Day 3: Technical Sessions
Attractions in Osaka!
Enjoy sightseeing near Japan's iconic Mt. Fuji, including a Lake Ashi cruise and visit to Mt. Komagatake during this 11.5-hour day trip by coach from Tokyo. See the celebrated Mt. Fuji during a stop at its famous 5th Station, then take a laid-back boat cruise on beautiful Lake Ashi before touring Mt. Komagatake's ropeway and summit, offering amazing views of nearby Hakone National Park.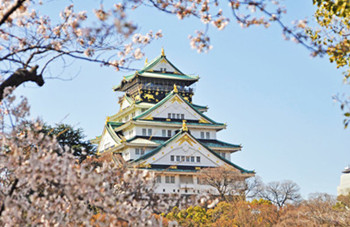 Osaka Castle
Osaka Castle is a Japanese castle in Chūō-ku, Osaka, Japan. The castle is one of Japan's most famous landmarks and it played a major role in the unification of Japan during the sixteenth century of the Azuchi-Momoyama period.
The main tower of Osaka Castle is situated on a plot of land roughly one square kilometer. It is built on two raised platforms of landfill supported by sheer walls of cut rock, using a technique called Burdock piling, each overlooking a moat. The central castle building is five stories on the outside and eight stories on the inside, and built atop a tall stone foundation to protect its occupants from attackers.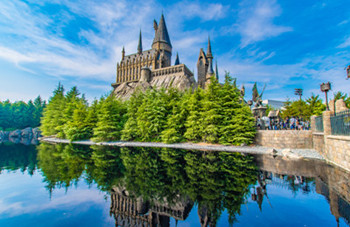 Universal Studios Japan
Universal Studios Japan, located in Osaka, is one of six Universal Studios theme parks, owned and operated by USJ LLC, which is wholly owned by NBCUniversal (as of 2017). The park is similar to the Universal Orlando Resort since it also contains selected attractions from Universal Orlando Resort and Universal Studios Hollywood.
The park opened on 31 March 2001. Over 11 million guests visited the park in its opening year, making it the world's fastest amusement park to have achieved the 10 million milestone at the time. Since then, Universal Studios Japan has had approximately 8 million visitors every year. Most visitors are Japanese tourists and tourists from other Asian countries such as South Korea and China. It is also very popular among Western tourists and expatriates. In 2005, Goldman Sachs became the largest shareholder in Universal Studios Japan.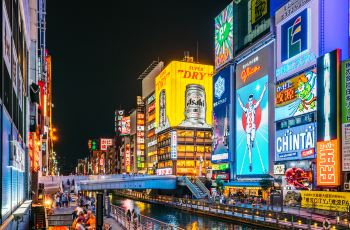 Shinsaibashi
Shinsaibashi is a district in the Chūō-ku ward of Osaka, Japan and the city's main shopping area. At its center is Shinsaibashi-suji, a covered shopping street, that is north of Dōtonbori and parallel and east of Mido-suji street. Associated with Shinsaibashi, and west of Mido-suji street, is Amerika-mura, an American-themed shopping area and center of Osaka's youth culture. Major stores and boutiques concentrates are found around the area. Shinsaibashi is easily accessed via the subway.